His Holiness The 17th Karmapa spoke of how when we express devotion to a visualization or painting of a deity, that deity is not external to us; we are honoring that deity within our own heart.
The wisdom of Manjushri, the compassion of Chenrezig, the protection of Mahakala, the Love of Tara are all qualities of our own being.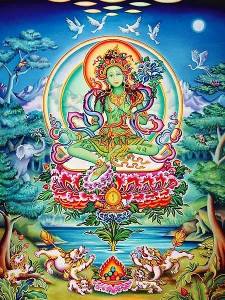 As we go to Tara, our Mother tonight, as we climb upon Her lap, and let Her Arms hold us as we sleep, we know that love, that protection is coming from our own hearts.
Then when we rise in the morning, we are able to hold other beings in that same spacious embrace of Her great Wisdom and Compassion.
Emaho!
Karmapa Chenno!
Om Tare Tutare Ture Soha!
Source: from my good friend Amrita Nadi on her Facebook page.