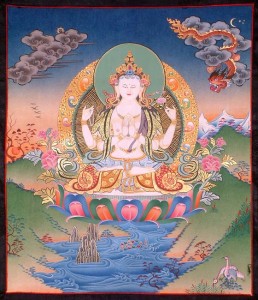 Last night a friend asked me to describe Chenrezig to him.
So I tried like this:
To me, Chenrezig represents the open path to Buddha Nature.
He said, 'say more':
He/she is the awareness of compassion, but also an intelligence.
He asked me what I thought Buddha Nature means… So I said this:
Buddha Nature to me is the persistent wisdom/compassion/awareness that everything is. Never born, never dying.
I admitted that I am likley only regurgitating something that I read from a Tulku or heard some Rinpoche say in a talk…
I recieved the Chenrezig empowerment in 2007 from a Karma Kagyu Rinpoche here in OKC while he was visiting a very small Buddhist group. I took my refuge that day, and in many ways I have danced around it. I almost entirely fell away from my Chenrezig practice by seeking what I thought I was missing, a teacher.
I found a friend who is a Naga Baba and soon I was deep into Shaivism, which I think might have helped me in some ways, but in truth I would have discovered that same non duality in my Chenrezig practice had I been paying any attention.
So now I am paying attention. Now I am devoting myself to Chenrezig, to compassion, to the knoweledge that wisdom has always been swirling around me and now I am ready.
Om Mani Padme Hung.