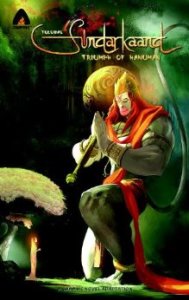 I read a graphic novelization of Hanuman's time in Lanka last night, and I loved it. Sundarkaand: Triumph of Hanuman: A Graphic Novel Adaptation (Campfire Graphic Novels) is beautiful, easy to read, and leaves the esoteric knowledge for later readings. This, in my opinion, is the easiest introduction to Hanuman and his relationship with Ram, Sita, Ravana, and Lakshman.
For me, one of the reasons that I love Hanuman is his simple devotion. Yes, Hanuman is almost unimaginably powerful himself. He is the son of the wind, the student of the sun, and an incarnation of Shiva himself; but his devotion and humility is total and sincere.
I also love that Hanuman is like the first super hero. He can fly, he can grow or shrink to any size, and he is immensely powerful. Oh, and he is an anthropomorphized monkey who was cursed to forget his divinity by sages when he playful bothered them.
To connect with Hanuman and his devotional energy chant his mantra:
Om Hum Hanumate Namah
Jai Jai Hanuman.